Data Mind s.r.o.
Phone: +420 720 705 639, +420 220 386 449
E-mail: info@datamind.cz
Address: Pobřežní 18 / 16, Praha 8 - Karlín, 186 00
IČO/DIČ : 28953789 , CZ28953789
Bank account: 2183476309/0800
You can find us here:
Contact us personally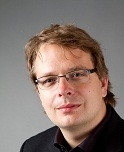 Mgr. Jan Matoušek - Your first contact

Jan Matoušek is the founder of Data Mind and project director
He graduated from Sociological research methods at the Charles University in Prague and has rich experience in conducting various analytical projects.
He has been engaged in analyses since 1996. He worked in RCA-Research company as an analyst and a programmer, after that he became a research manager in the well-known The Gallup Organization. In OgilvyOne marketing agency he engaged in projects such as segmentation of mobile operator users, evaluation of marketing activities, and specialized in data mining. Later he joined the O2 company as an experienced data miner and created many consumer-behavior models that were also put into operation.
Besides data mining Jan devotes himself to sociological and marketing studies and surveys for both state-owned and commercial institutions.

Johana Vohanková
Phone: +420 720 755 701
E-mail: johana.vohankova@datamind.cz

Johana Vohanková is senior marketing analyst
After graduating at the Faculty of Business and Economics at ČZU she started at the position of marketing analyst in OgilvyOne agency, where she engaged in marketing campaigns and analyses focused mainly on the support of Telefónica O2 loyalty program. At the same time she worked also on different projects for several other clients. She came back to the agency few years later as a head of the Analytical department. In the meantime she worked in Telefónica O2 on the client side where she devoted herself to different strategic projects, first, in the Price-setting department, later, as a manager of the Evaluation department and, finally, took on also the Reporting department.
Contact